You are here
Coastal Catalonia
You only need glance at the Catalan coast for a moment to realise what spawned northern Europe's obsession with Spanish beaches
For many tourists, Barcelona may be the be all and end all of Catalonia, but venture beyond the city limits and out spreads a coastline of such diversity that you could spend weeks dissecting it. As well as being varied, this corner of the Iberian peninsula also offers something culturally very different from the rest of the Spanish Mediterranean. In fact, many Catalans will insist that they're not really Spaniards at all. For a visitor the most obvious manifestation of this is in the use of Catalan as a day to day language (although everybody will speak to you in Castilian Spanish – or even English in the tourist towns) and the abundant fluttering of Catalan flags.
Political and cultural differences aside, after fleeing the region's capital, the priority for most people is to lay a towel down on a beach. Although Catalonia has around 580km of coastline, which stretches from the rocky French border to the marshlands marking the frontier with Valencia province, you only need glance at the Catalan coast for a moment to realise what spawned northern Europe's obsession with Spanish beaches. The Costa Brava, to the north of Barcelona, ranks with the Costa Blanca and Costa del Sol as one of Spain's three great holiday hotspots. Though for many it is synonymous with some occasionally awful concrete hotels and English breakfasts, the "Rugged Coast" hides some of Spain's most exceptionally beautiful slips of sand.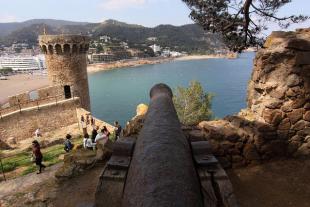 One hundred kilometres northeast of Barcelona is the one-time fishing town of Tossa de Mar, which curves around a boat-speckled bay and is guarded by a headland crowned with impressive medieval walls, is today the most low-key and attractive of the bigger resorts. Come early or late in the season (May is a delight) and it can almost come across as undiscovered. Further north, abutting the French border, is the sea-sprayed, white-wash town of Cadaqués. There's a special magic to Cadaqués – a fusion of wind, sea, light and rock that has long attracted the creative. Federico García Lorca, Paul Éluard, and Gabriel García Márquez were only some of those inspired by the town. However, it was the painter, Salvador Dalí, who once described L'Hostal, a Cadaqués bar that's still going strong, as the "lugar más bonito del mundo" (the most beautiful place on earth) and who really put Cadaqués onto the holiday wish list of the boho-chic set.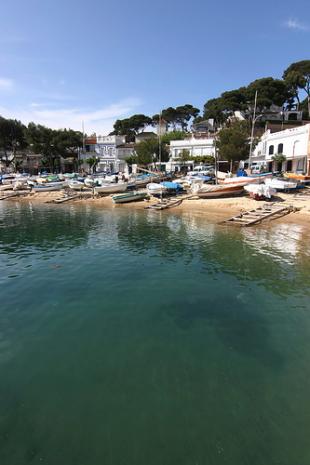 Although man created a work of art when he built Cadaqués, nature has done an even better job with the nearby Cap de Creus. The most easterly point of the Spanish mainland is a place of sublime, rugged beauty, battered by the merciless Tramontana wind. The odd-shaped rocks, barren plateaux and deserted shorelines that feature in so many of Dalí's paintings were not just a product of his fertile imagination. This is the landscape the artist would draw inspiration from, described by him as a "grandiose geological delirium". Sitting pretty roughly halfway between Tossa de Mar and Cadaqués are the small towns of Palafrugell and Begur. In between these lie dozens of pocket-sized coves hemmed in by pine trees, scented by sub-tropical flowers and lapped by azure waters. Even the names of some of these beaches, Aiguablava, Fornells, Sa Tuna and Aiguafreda, sound exotic and enticing. And the best thing is that on account of their small size and difficult access, most remain largely undeveloped with most hosting no more than one or two upmarket, boutique style hotels. South of Barcelona, the coastline is very different to that of the Costa Brava. This is a region of apparently endless flat, sandy beaches and, beyond the history soaked streets of Tarragona, there are few coastal places of interest. Until that is the River Ebro, one of the great rivers of Spain, mutates from stately river to become the flamingo tinted Ebro delta; a confused web of waterways, lagoons and dune backed beaches reaching down to Catalonia's southern border that's northern Spain's most important wetland bird habitat. For more information, see costadaurada.info, en.costabrava.org and catalunya.com.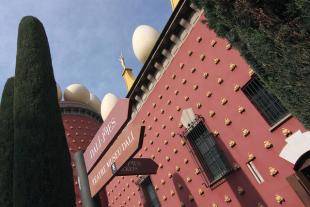 Dally with Dalí The great surrealist artist, Salvador Dalí was a boy of the Catalan coast, born in industrial Figueres in 1904. His art defined an artistic movement and his presence still echoes throughout coastal Catalonia today. The flamboyant Teatre-Museu Dalí (00 34 972 677 500; salvador-dali.org; admission €12), located in his hometown, was created by the artist with the goal of allowing everyone to experience his "desires, enigmas, obsessions and passions". In his youth, Dalí holidayed in Cadaqués, not far from Figueres, and later in his life he set up home in the neighbouring village of Port Ligat where his house, now the Casa Museu Dalí (00 34 972 25 10 15; salvador-dali.org; €11), is open to visitors by advance reservation only. Towards the end of their lives Dalí and his wife Gala moved to the Castell de Púbol (00 34 972 488 655; salvador-dali.org; €8), not far from Girona, where Gala now lies in a crypt surrounded by stone elephants with giraffes legs and other such oddities.
The most easterly point of the Spanish mainland is a place of sublime, rugged beauty, battered by the merciless Tramontana wind.
Sitges & Tarragona Barcelona so overwhelms that it doesn't even cross the minds of many visitors that there might be urban fun to be had elsewhere in the region. Just 35km south down the coast from Barcelona, the former fishing-village-turned-pumping-beach-resort town of Sitges has beena favourite with upper class Barcelonians since the late 19th century, as well as a key location for the burgeoning Modernisme art movement which paved the way for the likes of Picasso. The happy masses continue to flood into Sitges – from day-tripping shoppers and clubbers to honeymooners and weekending families. A famous gay destination in July and August Sitges turns into one big beach party with a nightlife to rival Ibiza; the beaches are long and sandy, the tapas bars prolific and the renowned Carnaval bacchanalian (held Feb/March). Further south down the coast still, and an awful lot more refined than Sitges, is the eternally sunny port city of Tarragona, a fascinating mix of Mediterranean beach life, Roman history and medieval alleyways, is very different in feel to Barcelona. Tarragona's number-one attraction is its seaside-facing Roman amphitheatre (museutgn.com; admission €3.25 per site/€10.85 all sites) and other Roman sites, but the town's medieval heart is also one of the most beautifully designed in Spain.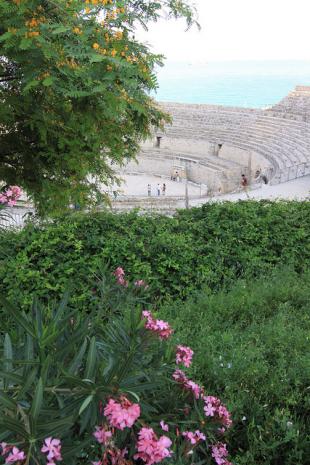 Gourmet hot spots From a simple beachside shack serving fish so fresh it may well flop off your plate and back into the sea, to one of the region's esteemed temples of gastronomic pleasure, Catalonia will please anyone with a hungry tummy. Long the leader of the pack was El Bulli, which held three Michelin stars and the title of 'Best Restaurant in the World' a record five times. El Bulli has now closed its doors, but others have been quick to try and replace it. Best regarded of these is El Celler de Can Roca in Girona (00 34 972 22 21 57; cellercanroca.com; tasting menus from €130), voted the second-best restaurant in the world as of 2012. Its style is playful – how about a 'dry gambini' (with a prawn serving the olive role in a dry martini? In Tossa de Mar La Cuina de Can Simon (00 34 972 34 12 69; Carrer del Portal 24; taster menus €68-98) distinguishes itself with the most imaginative creations in town: for example the classic mar i muntanya presents you with pig trotters and sea cucumber. Right down at the other end of Catalonia, in the delta of the River Ebro is Mas Prades (00 34 977 05 90 84; Carretera T-340, km 8; menus €30) which attracts gourmets all the way from Barcelona for superb delta cuisine such as mussels and baby squid or delta rice with wild duck.
Life Under the Costa Brava The coastline of the Costa Brava contains some of the best diving in the western Mediterranean. The focus of attention is on the Illes Medes, a protected group of seven islets just offshore from the ho-hum resort town of L'Estartit. Some 1,300 different species of plants and animals have been seen in the waters around here including conger eels, moray eels, rays and giant groupers. The tourist office has lists of L'Estartit's scuba-diving outfits - Costa Brava Divers (00 34 972 752 034; costa-brava-divers.com) is one recommended operator. If you're a qualified diver, a two-hour trip usually costs around €35 per person. Full gear rental can cost up to €55 a day and night dives are €40 to €45. If you're a novice, do an introductory dive for around €70 or a full, five-day PADI Open Water Diver course for around €420.
Where to stay There are some fabulous places to stay all along the Catalan coast. The Hostal Sa Rascassa (00 34 972 622 845; hostalsarascassa.com; doubles from €135 B&B), sitting all alone overlooking the rocky cove of Aiguafreda, has a handful of delightful earthy toned rooms and a sense of utter tranquilty. The Hostal Cap d'Or (00 34 972 34 00 81; hotelcapdor.com; doubles from €103, B&B), which rubs up tight against the old town walls of Tossa de Mar, is a classic old-fashioned Spanish guesthouse with simple but lovingly decorated rooms. The Hotel Mediterrani (00 34 972 61 45 00; hotelmediterrani.com; doubles from €130 B&B) has swish, arty rooms decked out in placid creams. Some rooms have breathtaking views of a hidden sliver of sand on the edge of Calella de Palafrugell, which in itself is one of the nicest beach towns on the Costa Brava. The website rusticae.es lists more, independent properties with character along the coast. Getting There and Around The Catalan capital, Barcelona, is the main flight hub for the region. It is served from the UK by easyJet (0843 104 5000; easyjet.com), Ryanair (0871 246 0000; ryanair.com), British Airways (0844 493 0787; ba.com), Monarch (0871 940 5040; monarch.co.uk), Jet2 (0871 226 1737; jet2.com) and Vueling (0906 754 7541; vueling.com). Ryanair also flies to the overlooked city of Girona, close to the beaches of the Costa Brava, from more than half-a-dozen UK cities. Car hire is available at both these airports as well as in most large towns and beach resorts. Getting around coastal Catalonia is a breeze on your own, but if you want to do away with pre-trip planning, or simply to stay in one place, opt for one of the many package tours offered by the likes of Thomson (0871 231 4691; thomson.co.uk) and Thomas Cook (thomascook.com). Specialist operators include Keycamp (0844 334 8253; keycamp.co.uk) for camping; and Solmar Villas (0845 508 7775; solmarvillas.com) and James Villas (0800 074 0122; jamesvillas.co.uk) for rental properties.
This piece was first published in the Independent newspaper in the UK in spring 2013. The original online version can be seen here: www.independent.co.uk/travel/europe/travellers-guide-coastal-catalonia-8589543.html